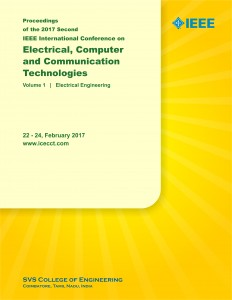 The 2017 Second International Conference on Electrical, Computer and Communication Technologies (ICECCT 2017) held at Coimbatore, Tamil Nadu, India during 22 – 24, February 2017. The Second edition of ICECCT received more than 1100 manuscripts for consideration and 250 papers have theessayclub been registered after stringent review and evaluation of the Technical Program Committee. Authors from 28 different countries have contributed papers and more than 20 countries had participated physically in the conference. ICECCT 2017, had also really received excellent response in terms of technical quality, organization, excellent conference kits, informative pre conference workshops and excellent hospitality to the participants.
Participants from the following countries had attended the ICECCT 2017
Azerbekistan, Bangladesh, China, Denmark, Dubai, England, Germany, Greece, India, Iran, Japan, Kenya, Malaysia, Mauritius, New Zealand, Singapore, South Africa, Sri Lanka, Thailand, United Arab Emirates, United Kingdom and United States of America.
Click here to access the proceedings of IEEE ICECCT 2017 in the IEEE Explore, the digital libray of IEEE
Click here to view the https://chiefessays.net/ proceedings of IEEE ICECCT 2017 in SCOPUS
Click here to view the SJR value of Scimago Journal and Country Rankings (Elsevier)